India won the second test match by an innings and 239 runs with Sri Lankan batsmen putting a very bad show with the bat in both the innings of the match. They were bowled on 205 and 166 chasing the following massive lead given by India. The host is one up in the series with remainder to be played on 2nd December at New Delhi in Feroz Shah Kotla stadium.
India has built up a head of steam in Test cricket, and it's all leading up to that tour of South Africa. And even the overseas assignments they have next year. But they'll first have to get through another Test match with Sri Lanka before completely dedicating their focus towards becoming an undefeated side.Second test.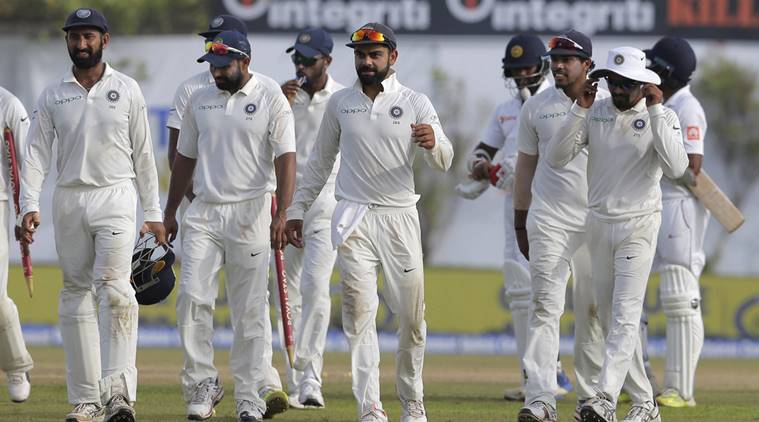 The second test at Nagpur observed India side totally dominating the visitors with some exceptional performances.Here are some of the key talking points from the Test match in the following slides.
1) Kohli hitting his 5th double century in test cricket
After playing brilliantly for his 213 in the second test match, Virat Kohli became fourth Indian to score a double century in the test against five different countries including Sri Lanka. The run machine has also scored ten international centuries in this calendar year. He is currently averaging more than 50 in all three formats of the game. His exceptional batting skill made it possible for India to clinch a comfortable win over the visitors.
2) Ashwin became quickest to 300 test wickets
Ravichandran Ashwin who bowled beautifully to restrict Sri Lanka's batting line after taking 8 wickets in the match became the quickest bowler to take 300 wickets in only 54 test matches after Dennis Lillee who dis it in 56 matches. Ashwin also is now the 6th Indian to take 500 international wickets after Kumble, Harbhajan, and Zaheer Khan. Till now the carrom ball specialist has taken 502 wickets in his career.
3)Biggest test win for India
India beating Sri Lanka with a four-day sweep was the biggest test win for India in test cricketing history, last they won like this was against Bangladesh winning it off by 239 runs at Dhaka in 2007.India after scoring more than 600 runs became the second country to do it more than 30 times after Australia.
4)Biggest test loss for Sri Lanka
After losing very cheaply to the host in the second test match Sri Lanka recorded its biggest test loss in history after getting dismissed by Indian bowlers, last time they lost miserably like this was in Capetown 2007 against South Africa by an innings and 229 runs.
5) Most test wins as a Captain
After playing 31 test matches as a skipper Kohli now has 22 test match win after demolishing Sri Lankan's yet again. The win percentage of Kohli as a captain is 71% approximately in the test with much more wins to come Kohli's way.
Sri Lanka is miserably missing their experienced players like Kumar Sangakkara, Mahela Jayawardene, and Dilshan, the team management must be expecting a different mindset on 2nd December from their young Captain Dinesh Chandimal who alone firing with the bat is not enough for the team.
While India is on their dream run with not even losing a test series under Kohli's captaincy since 2015 will like to carry forward their winning spirits and confidence from the coach.
The last and the third test match is to be played at Feroz Shah Kotla stadium from 2nd December onwards.