If you are interested in a holiday packed with excitement and adventure to last you a lifetime, then you guys should definitely go and try white water rafting in the Himalayas. If you're healthy enough and have a passion for the outdoors, you can safely embark on one of the rafting expeditions offered by numerous rafting agencies.Some of the top location where you can raft with friends and family.
Rishikesh-
Rishikesh has earned the title of River  Capital of India. This stretch in Uttarakhand offers numerous camps which have trained professionals to help you with your rafting experience. Almost all the camps are located on the river bank, 13 to 22 km's out of Rishikesh town, on the road leading to Devprayag and Badrinath.The rapids in this 70-km stretch from Rishikesh to Devprayag are graded according to difficulty, so you can choose the rapids you wish to encounter according to your level of skill and expertise.
Ladakh-
River raft in Ladakh takes you through its picturesque landscape, consisting of deep canyons, soaring snow-covered peaks, hilltop monasteries, hillside villages, and unique wildlife. The best time for river rafting in Ladakh is from June to October. There are two main rivers that are rafting friendly. The Indus and the Zanskar. On the Indus, the most popular rafting stretch is from Phey to Sasol. It's a mild series of rapids and you can really enjoy the changing landscape while you're at it.
Sikkim-
The home of two huge rivers, the Teesta and the Rangit. The rivers offer good grade two, moderately challenging rapids. This place has a cool temperature to the raft and with a cooling breeze specially made for going with your close ones.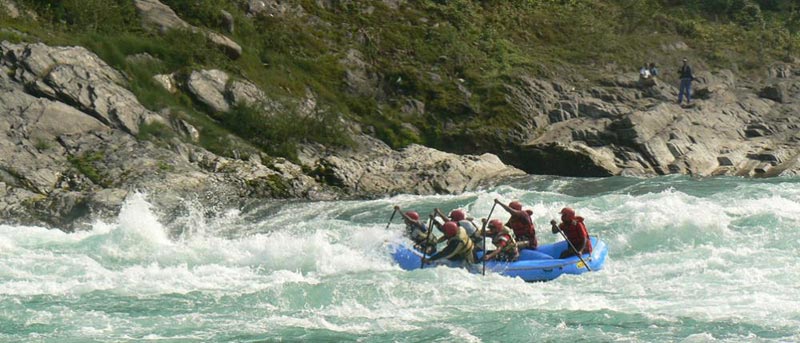 Tons, Uttarakhand-
The Tons River flows through Garhwal, the western part of the Himalayan state of Uttarakhand. The biggest tributary of the divine Yamuna, the Tons River is believed to have way more water and fury than the Yamuna itself. A river rafting expedition in the Tons provides you the thrill in a river that has grade III, IV and even some grade V rapids.
All these places are made for rafting, to explore and challenge your excitement and adventure but don't forget to take security and lifesaving equipment.