Mahendra Singh Dhoni's daughter is yet again in the news media, now she is been witnessed with the Indian sensational cricketer Virat Kohli. The video has won so many hearts until now. Virat Kohli who is the Captain of India cricket team was seen sparing some time with his favorite kid Ziva.
Virat who is busy with the ongoing  T20 series against Australia went to meet Ziva at Dhoni's place at Ranchi. They both were enjoying each other company where Virat was seen spending time with her. He wrote "My reunion with Ziva. What a blessing it is to be around pure innocence."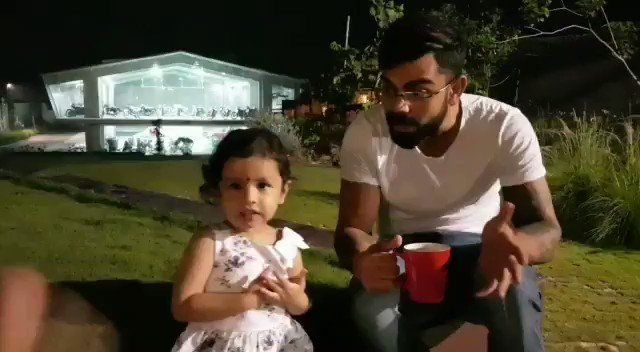 This means how Captain aggressive enjoys the company of little kids way too much. May it be his nephew or any other child his loves remain the same for him.
Not only with Dhoni's daughter Harbhajan Singh's daughter Hinaya was also seen spending some quality time with the skipper. The Indian team are currently playing against Australia and are 1 up in the series.
Kohli shared the video on his Instagram and plus this was not the first time both had each others company. Kohli is a great player of the game we hope meeting the daughter of his favorite cricket will build more confidence to perform in the other games too.
As now Virat Kohli is number 1 in ODI and T20 rankings he has a huge responsibility on his head to take India through 2019 world cup. He is been performing well for quite a time now.
Ziva Dhoni enjoys the company of Kohli as they were talking about the cats and moreover, in the video, Dhoni's bike collection can also be seen.
https://twitter.com/imVkohli/status/916986888648560641
Ziva and Kohli is a treat to watch together for the cricket fans as she is the daughter of world's most beloved son and on the other hand the aggressive hunk Virat is there.